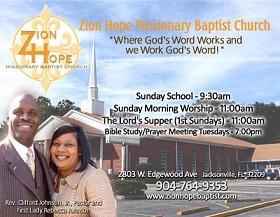 Our Pastor:
In 2004, the Lord blessed our church with a dynamic, energetic, visionary and spirit-filled pastor to lead our church and community. In Rev. Dr. Clifford Johnson, we have a compassionate, warm, caring and biblically sound leader who loves God & the people of God.
Dr. Clifford Johnson has earned degrees from Stetson University (BBA), Nova Southeastern University (MBA) & a Doctorate of Theology from St. Thomas Christian University (ThD). Pastor is well known for his basketball excellence at the University of Oklahoma, Stetson University & a brief stint in the Pros.
Dr. Clifford Johnson was voted Moderator of the prestigious East Florida & Bethany Association in October of 2014 & we are so proud of our pastor in obtaining this honored & important position to oversee the many churches affiliated with this association.
Dr. Johnson is happily married to his best friend, the lovely Rebecca Johnson & they have two wonderful children, Ciara & Clifford III.
.
Our Core Beliefs:
Worship- We are a community of worshipers who have been redeemed by God and washed in the Blood of the Lamb to submit our lives to HIM in faith, trust and obedience.
Evangelism- We are commissioned and committed to spreading the Good News that Jesus died for sin, he was buried and He rose on the third day with All Power In HIS Hand, to liberate the lost who will believe on His name.
Discipleship- We are a people under divine construction for the purpose of being conformed to the image of Jesus Christ as we align ourselves to the process of learning and living the powerful Word of God.
Fellowship- We are a family who has been united by God to share life together in the spirit of unity, faith, holiness and unconditional love.
Ministry- We are God's agents who have been sent into a broken world with broken people to demonstrate the love of Christ by meeting the needs of the least, the lonely, the listless, the last, and the lost.
.
Zion Hope Baptist Church
2803 Edgewood Avenue West
Jacksonville, Florida 32209
.
(904) 764-9353