We're here to Help, Pray & Minister to You!
Zion Hope Baptist Church
2803 Edgewood Avenue West
Jacksonville, Florida 32209
.
(904) 764-9353
.
.
"

Church Calendar

"



.

Morning Worship
Sunday's @ 11:00 AM
.
Prayer Meeting & Bible Study
Tuesday's @ 7:00 PM
St. Joseph Baptist Church
485 West 1st Street, Jacksonville, FL 32202
February 12th @ 5:00 PM
(Pastor Johnson will be Preaching)
.

Greater Zion Grove Baptist Church
6317 118th Street, Jacksonville, FL 32244
(Pastor Johnson will be Preaching).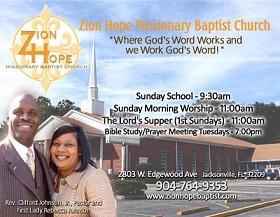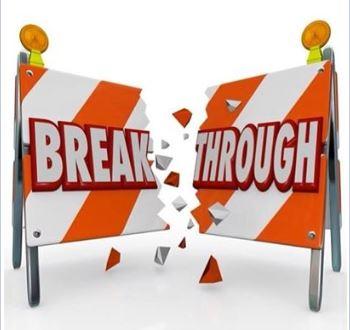 We thank you for visiting our website and hope you want to find out more about the exciting and progressive ministry here at "The Hope!" We are constantly seeking God to better meet the needs of our church, community and city. We invite you to take a good look at us because "We May Be the Church For You!" Our saints are here to serve God and to be a "Word" church that honors Christ and preaches His Word so that believers can find God's Will for their life through sound doctrine, biblical teaching, promoting spiritual growth and life changing ministry! Won't you come visit us and enjoy the Zion Hope Experience?